HOME
Teaching Methodologies
Teaching Methodologies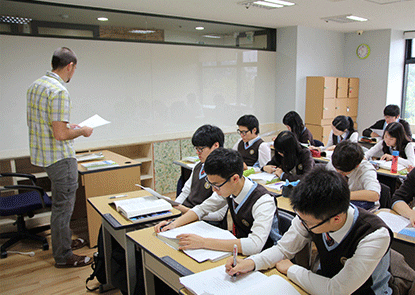 Teaching Methodologies
The Teaching Method of KCIS is a result of many years of research with combined preaching and teaching experience and implemented through experiments. It is also a result of studies conducted based on group dynamics and brainstorming approaches. Education at KCIS is carried out with professional teaching with self- exploration and research as fundamental principles.
DEBATE Students learn to state their ideas about diverse issues, understanding other opinions and learn how to organize discussions

SPEECH Students learn to speak clearly and confidently, practice public speaking, and use appropriate gestures, speech training essential for leadership enhancement.

READING Students learn to assigned classic reading books according to grade and level, complete book reviews after reading, and the book reviews are evaluated and graded by teachers

CRITICAL READING Students read articles and solve problems according to the critical reading assigned form at, including all the necessary materials such as news articles, and reports, Answers are evaluated and scored by teachers.

MONTHLY ESSAY Students write an essay once a month following the assigned format. This essay will be evaluated graded according to performance.